Approach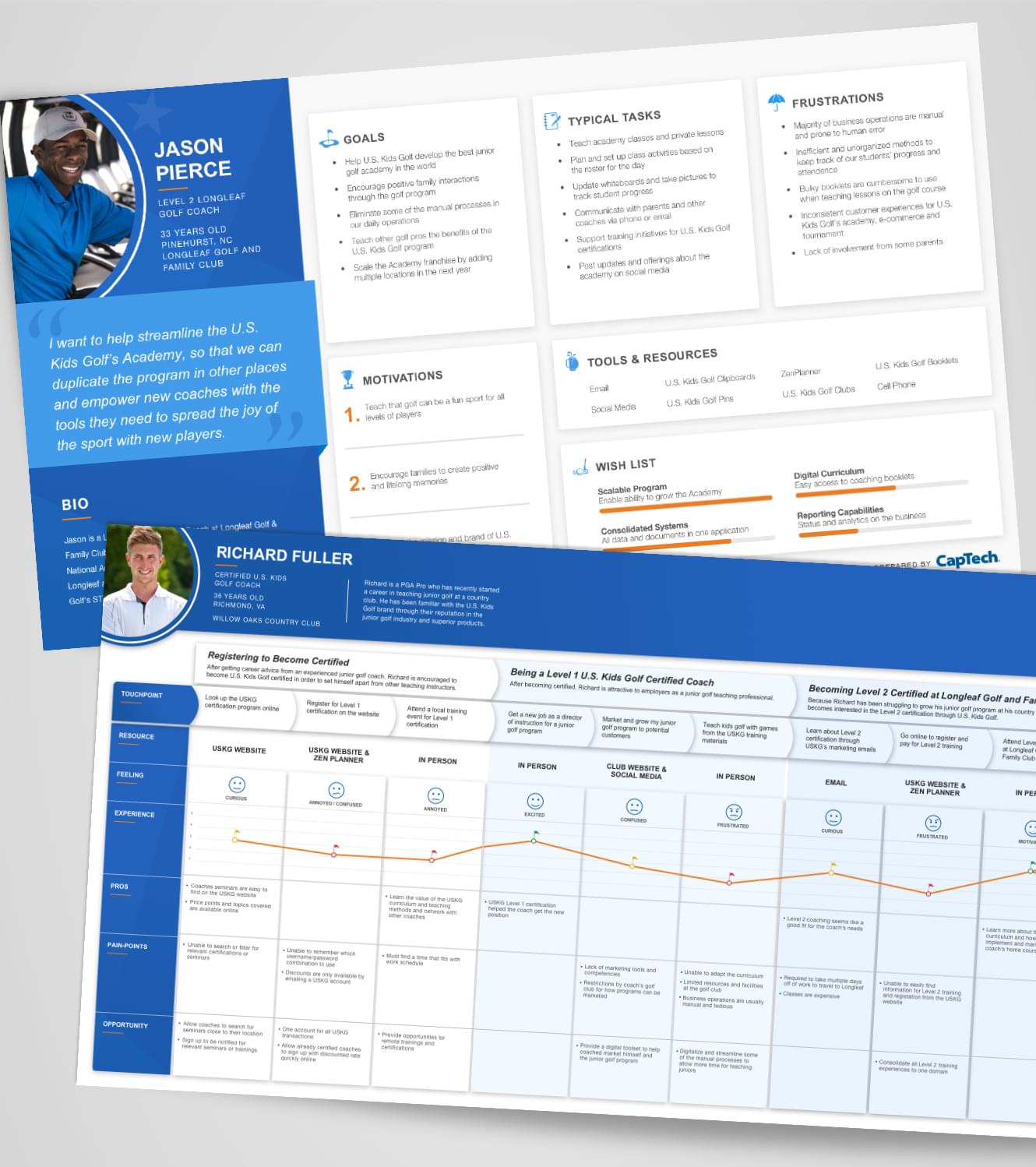 Driving Toward Coaching Success
First, CapTech's Customer Experience team conducted an initial review of current assets, as well as near-term and long-term opportunities for the organization. Competitive research provided a view into other junior golf programs, while user interviews and job shadowing uncovered current pain points.
The research confirmed disparate systems existed, along with experiences for different touchpoints, and validated that coaches wanted to use USKG to help market, manage, and grow their own businesses. User personas and journey maps helped guide a larger digital strategy by visualizing and explaining current state opportunities, outlining desires and pain points, and demonstrating how to deliver tools and services to improve their USKG experience.
To bring it all together, CapTech presented a multi-year digital roadmap that informed how USKG could create a unified brand and digital experience across all channels — a single place that allows parents to engage with USKG and provides coaches tools for managing their business.
Results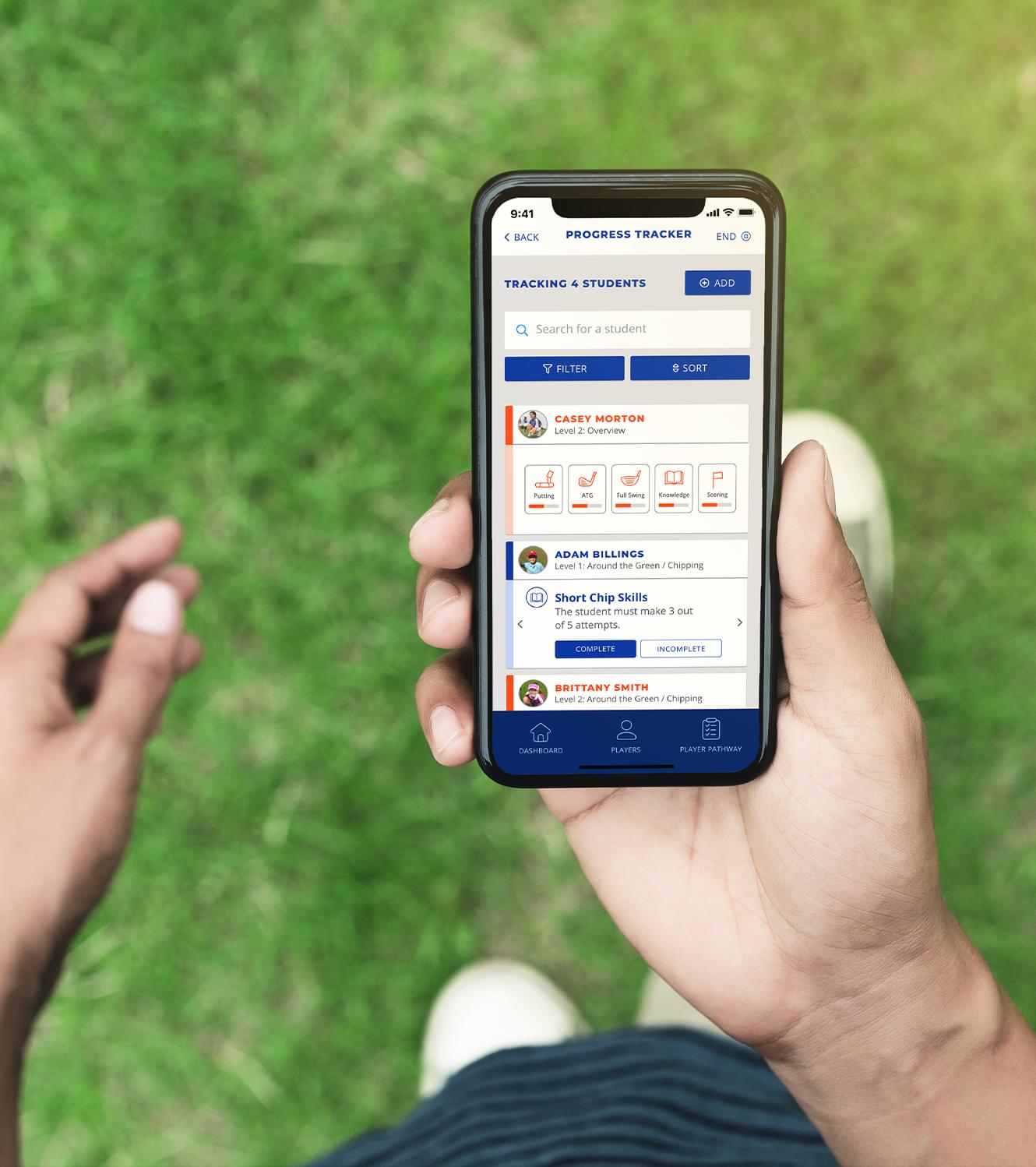 On Par for a Digital Transformation
Focused on a digital transformation, CapTech partnered with USKG to develop a standalone mobile application for Player Pathway, which was previously only available in pamphlets and booklets. The app gives coaches the ability to:
Add students to a roster
Track student notes
Track progress on Player Pathway
Access content from Player Pathway
Store parent information to enable efficient communications
Now, coaches can track their students' progress toward earning skill- and technique-specific pins in real time, digitally, instead of using pen and paper. Additionally, the app includes a companion website that helps coaches share awards and accomplishments for each student with parents at the end of every class.
Tools like these help coaches focus more of their time on teaching and fulfilling USKG's vision of instilling in young players a lifelong passion for the game of golf.
Accolades from Golf Digest for Innovative Technology: The U.S. Kids Golf app (Android and iOS) successfully debuted at the PGA show in early 2020, and Golf Digest featured it in the article, "One of the 7 New Ways Golf Instruction is Embracing Artificial Intelligence and Innovative Technology."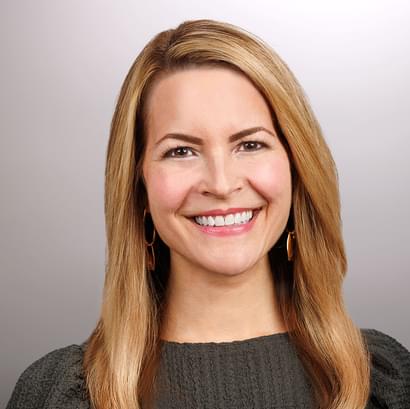 Bree Basham
CX Practice Area Sponsor & People Lead
Bree leads our Customer Experience practice, creating digital strategies and solutions using modern technologies to deliver meaningful and measurable experiences for our customers. She has served as a Creative Director for many omnichannel experiences within the retail space, as well as for a number of other industries that CapTech serves.